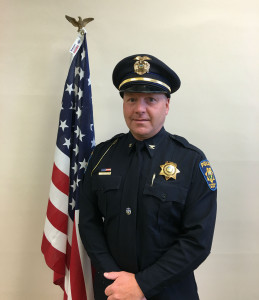 I am proud to be the Bradner Police Chief and welcome any and all feedback from anyone.  I work for the community of Bradner and it's fine citizens.  I was granted the privilege of working for Bradner by the mayor and council.  With that honor I will always have an open door policy and will strive to serve my position honorably and with integrity.
I began my education in law enforcement in 1994 after graduating from Owens Community College with an Associates Degree in Criminal Justice and Corrections.  I then completed the Ohio Peace Officer Basic Training Program in 1995. I attended the Ohio Corrections Basic Training Program in 1998 and in 2012 I attended Lourdes University with an emphasis on Criminal Justice and received a Bachelor's Degree.
I began my police career at Haskins Police Department as a part time patrolman. I moved up the ranks and was promoted to Sergeant and Acting Police Chief on occasion. While working at Haskins I was hired by Lucas County Work Release in 1997.  I made a lateral transfer to the Lucas County Court Deputy Department in 1999.  I worked at Lucas County till 2014.  In 2009 I was hired by Bradner Police Department where I started as a part time officer and was promoted to Sergeant, then Police Chief in 2013.  I currently work fulltime as Chief of Sandusky County Park District.
Working for Bradner Police Department and Sandusky County Park District are two positions that make work enjoyable.  I work aggressively with the fine police officers of Bradner to excel the police department to actively pursue illegal activity and at the same time always offer respectable and courteous behavior.  Please help me make your town a safe and enjoyable place to live and play.
Respectably,